Technical Consultant
·
Göteborg
Group Design Lead, GDL
Vill du vara med i nästa nybilsprojekt?
Vi söker GDL:er med erfarenhet från fordonsbranschen och en passion för nybilsprojekt!

Som GDL hos oss blir du del av ett agilt team med ansvar för att driva och säkerställa tid, kvalité och kostnad inom ditt specifika område och gentemot projektplan. Det innefattar ett brett kontaktnät och nära samarbete såväl internt som externt med till exempel produktägare och underleverantörer.  
Vem är du?

Minst 3 års arbetslivserfarenhet från nybilsprojekt.
Du är bekväm i Volvos system, framför allt KDP och Teamcenter.
Du har en universitetsexamen inom Maskin, Mekanik eller industriell ekonomi.
Du är van vid att arbeta strukturerat och gentemot flera olika kontaktytor samt att driva och koordinera projekt.
Du är en lagspelare med en "can-do"-attityd.
Du kommunicerar obehindrat på svenska och engelska.

Ett extra plus är erfarenhet inom airbag.
Vi erbjuder:

Ett tekniktungt konsultbolag där dina idéer kommer att höras och värderas.
En stödjande och inkluderande företagskultur som främjar mångfald.
Möjligheten att kombinera din tekniska kompetens med ett driv för att tillsammans skapa en mer hållbar framtid.
Stora möjligheter till kontinuerlig utveckling i ett expanderande konsultföretag.

Together Tech för hållbar produktutveckling

Genom tekniska lösningar gör vi skillnad och levererar på våra kärnvärden - glädje, omtanke och strävan - genom en passion för människor, teknik och innovation. Följ med på vår resa där vi tillsammans med våra kunder innoverar och utvecklar för en bättre värld. Läs mer om oss på hemsidan, www.togethertech.com.
"Together Tech prioriterar konsulternas utveckling och välmående - och det är viktigt för mig"

"Jag tycker att vi har en vänlig, inkluderande och positiv stämning på kontoret och samtidigt seriösa ingenjörsmässigt"

Welcome to our world of consulting!
Har du frågor? Kontakta gärna medarbetaransvarig inom kvalitet och projektledning

Anders Lüborg, +4631589796

Department

Technical Consultant

Role

Project Manager

Locations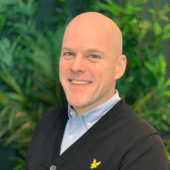 Contact
Anders Lüborg
Business Unit Manager - Quality & Project Management – Business Unit Manager and Sales
About Together Tech
We are a growing tech consulting firm specialize in product development and digital solutions. We have a passion for technology and sustainability and aim for long-term relationships with everyone we collaborate with, employees, customers, business partners, and more.
When we say we have a passion for sustainability, we include people's well-being as much as the environment. We are tech consultants with equal parts professional and personal commitment to people and the planet. Through commitment and collaboration, we meet the technical challenges of the future for a sustainable world.
Coworkers
Soon reaching 250
Technical Consultant
·
Göteborg
Group Design Lead, GDL
Vill du vara med i nästa nybilsprojekt?
Loading application form